Home | Dryer Fires | Warning Signs | Benefits | Inspections | Testimonials| Service Area| Links
London Aire Services
LLC
Serving the Entire Metro Area
East Metro (651) 464-1369 - St Paul (651) 699-3373 - Mpls & West Metro (952) 933-8005

Is your Dryer Vent Safe?
Dirty dryer vents are the #1 cause of household fires!
Call for an appointment for Dryer Duct Cleaning today!
We specialize in duct cleaning and our service is guaranteed. We remove lint, bird nests, dead rodents and articles of clothing from dryer vents in homes, beauty salons, apartments and condos. Our work is done promptly and professionally. Contact us for free estimates.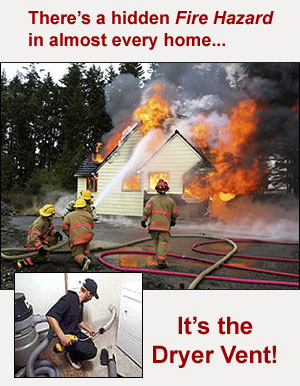 Protect your Greatest Investment
We offer Dryer Duct Cleaning for single family homes, hair salons, animal hospitals, town homes and high rise condominiums at the most reasonable rates in Minneapolis, St. Paul and the entire Twin Cities area.
No Fuss - No Mess Service
Mission of London Aire:
To provide Peace of Mind, Comfort and Security to our clients by providing the highest quality service at a very competitive cost.
We solve your problems
Certified, uniformed techs
99.5% on time arrival rate
Home | Dryer Fires | Warning Signs | Benefits | Inspections | Testimonials| Service Area| Links